Meet our caring, friendly, and supportive team at Apple Dental Care in Edmonton! 
---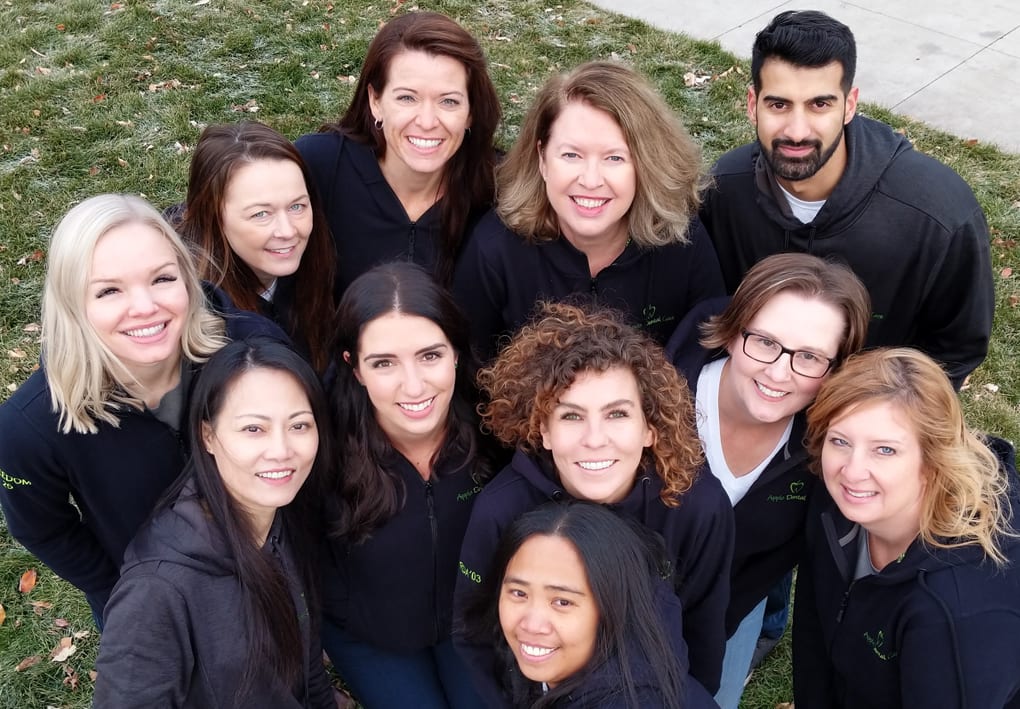 ---
Marie | Dental Hygienist

Marie is a Dental Hygienist who has worked at Apple Dental Care for over 20 years. It has been very rewarding for her to see the practice grow and develop. Marie particularly values the rapport with her patients and to watch her young patients grow and become young adults.

Outside of work, she is a mother of 3 busy children. Given the opportunity, Marie would like to travel the world.

Michelle | Practice Manager & Dental Assistant

Michelle graduated from the Northern Alberta Institute of Technology (NAIT) Dental Assisting program in 1998. Near the end of her studies at NAIT, Michelle met Dr. Cindy Neufeld at a volunteer inner city dental program offering free dental services to those in need. Michelle then completed her practicum at Dr. Cindy Neufeld's office and joined the team at Apple Dental Care after graduation.

Michelle loves educating her patients on their oral health and creating an overall comfortable experience for patients. Michelle's favourite part is watching young patients grow over the years and giving them confidence in their smiles.

When she is not working, Michelle is a busy mom of 2 girls. They enjoy mountain biking, skiing – and just for fun – they participate in obstacle course challenges. Michelle loves spending time with her family and travelling when possible.

Trista | Dental Assistant

In 2002, Trista became a Registered Dental Assistant, graduating from KDM Dental College. She began her dental career at Apple Dental Care and is passionate about her profession. 

Filled with love by her beautiful family, great friends, and of course, her dog Bow Bow, Trista also enjoys photography, journaling, gardening and yoga. She believes it's important to "fill life with fun and great memories". 

Cathy | Dental Hygienist

Cathy has been working in the dental industry for 17 years. She started her dental career in 2001 as a dental lab technician before returning to school in 2009 and graduating from Oxford College in Toronto in dental hygiene. She has been working for Apple Dental Care ever since.

Cathy's focus is on making her patients feel comfortable while striving to provide them the best possible care. 

Outside of work, Cathy is a busy mother of two young girls. She enjoys travelling when possible, swimming, and spending time with her family.

Analiza | Sterilization Assistant

Analiza started working at Apple Dental Care in 2011. Analiza is a Sterilizing Assistant and is in charge of sterilizing instruments, cleaning and setting up operatories and general laboratory work. She helps keep the office organized and ensures all patient appointments are on time.

When she is not working, she enjoys spending time with her family, especially with her daughter.

Rajan | Dental Hygienist

Rajan was born and raised in Edmonton, Alberta. He graduated from the Toronto College of Dental Hygiene and Auxiliaries and completed his Dental Hygiene Program. Since 2011, Rajan has been a familiar face at Apple Dental Care aiding patients with their oral hygiene needs. He is dedicated to helping patients achieve their dental goals through education and ongoing support.

Outside of the office, Rajan enjoys hitting the gym, travelling and exploring new interests with his fiancée, as well as being a full-time Oilers fan.

Sandra | Dental Receptionist

Sandra has been in the dental field since 1994, and started her career as a Registered Dental Assistant. After gaining experience in all aspects of general dentistry, Sandra became interested in advocating for patients, ensuring they receive the highest standard of dental care with today's technology and educational advancements.

Sandra is here to register you with the practice, schedule appointments, clarify and optimize your insurance and answer any questions you may have.

She enjoys being a part of a wonderful team and has been married for 22 years with three beautiful children.

Jill | Dental Hygienist

Jill is a Registered Dental Hygienist at Apple Dental Care. She is an active member of the Canadian Dental Hygienists Association and is registered with the College of Registered Dental Hygienists of Alberta. 

Jill strives to deliver the best preventative care for her patients. She believes that education is key to improving the health of her patients and is passionate about the connection between oral and overall health. 

When not in the office, Jill enjoys spending time with friends and family, staying active at the gym, and practicing good nutrition. 

Kara | Dental Assistant

Kara graduated from Nait in 1998, and aims to ensure her patients are at ease during their dental visits.

When not in the office, Kara enjoys spending time with her family and walking the dogs for fun.   She travels to third world countries with the volunteer group Kindness in Action providing dental treatment and education to those without means.