Don't let a damaged, misshaped, or discoloured tooth stop you from smiling! At Apple Dental Care in Edmonton, our family dentists provide dental crowns as a restorative treatment option.
---
What is a crown?
A crown is a custom-made artificial tooth that encases an entire damaged or broken tooth, restoring its function and improving its appearance. 
Why do I need a crown? 
There a variety of situations that require a tooth to be restored with a dental crown. The following are the most common:
To protect a weak tooth from breaking or to hold together parts of a cracked tooth
To restore an already broken tooth or a tooth that has been severely worn down
To cover and support a tooth with a large filling when there isn't a lot of tooth left
To hold a dental bridge in place
To cover severely discoloured teeth
To cover a dental implant
To make a cosmetic change
Is the crown noticeable? 
No. The crown will be made to match your other teeth exactly. The shade of the neighbouring teeth will be recorded, to make sure that the colour looks natural and matches surrounding teeth.
Crown Fittings at Apple Dental Care
If you have a damaged, misshapen, or discoloured tooth, your Apple Dental Care dentist will fit it with an artificial crown to improve its appearance and restore its function.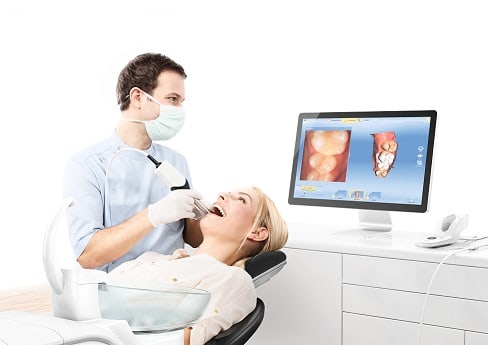 Here is how the crowning process occurs at Apple Dental Care: 
Your dentist will first give you a local anesthetic to ensure you do not feel any pain or discomfort during the procedure.
To get the perfect fit between the damaged tooth and the crown, your dentist will file down the damaged tooth.
Your dentist will take a digital impression using advance CEREC Omnicam scanner of your filed down tooth and the surrounding teeth to create a custom mold for your new crown in a day.
The crown is molded, resembling your natural tooth in shape, size, and colour and is cemented it onto your tooth*.
*No temporary restoration 
---